We were allowed to bring a limited, but fair amount of clothing which was a relief to be honest. The winter in no joke and if they actually wanted anyone to have a chance at making it to 100 days then a supply of appropriate clothing was in order.
One of my biggest advantages I believe for this particular location was my familiarity with the boreal winter. Our company has spent over 10 years specializing in boreal travel in the winter months. We make alot of our own gear and clothing and are specifically designed for the conditions that I would be likely encountering on Great Slave Lake, NWT.
My anticipation for the weather was going to be cold and dry. I know that the weather in the fall can be cold and wet, but I also knew that fall could swap for winter in a flash. And that was what I was going to prepare for. All of my clothing choices were thinking long-term and wasn't going to worry about it being "too warm" in the fall.
So let's go from the base-layers out!
Base Layers
WoolX 400 Heavyweight Nora Leggings x 2
WoolX 400 Alpine Heavyweight x 1
These leggings and top were an ABSOLUTE HIT! By far the best merino wool base layer I have ever used. They were warm and equally important, durable!! Even after I got home from wearing them every single day out in the field on Alone s7, I wore them when I got home for our whole winter season and they still look brand new! I would absolutely recommend these leggings for all who need a warm, durable base layer.
Outer Wear
For the show, we were allowed to bring one Parka, and one Rain Jacket. Knowing the environment and how quickly I thought winter would come, I asked if I could swap my rain jacket for one of our Anoraks. They said yes, and I was happier than a pig in mud.
Our homemade Anoraks are made of 100% cotton and are NOT waterproof. They are designed to be worn as a windproof layer that is extremely breathable. So it lets any moisture pass (sweat) to the outside of the garment and then the cold air wicks it away. It basically is like you are walking around with your own personal tent on. Cutting the winter wind is critical and this piece of outerwear was indispensable to me.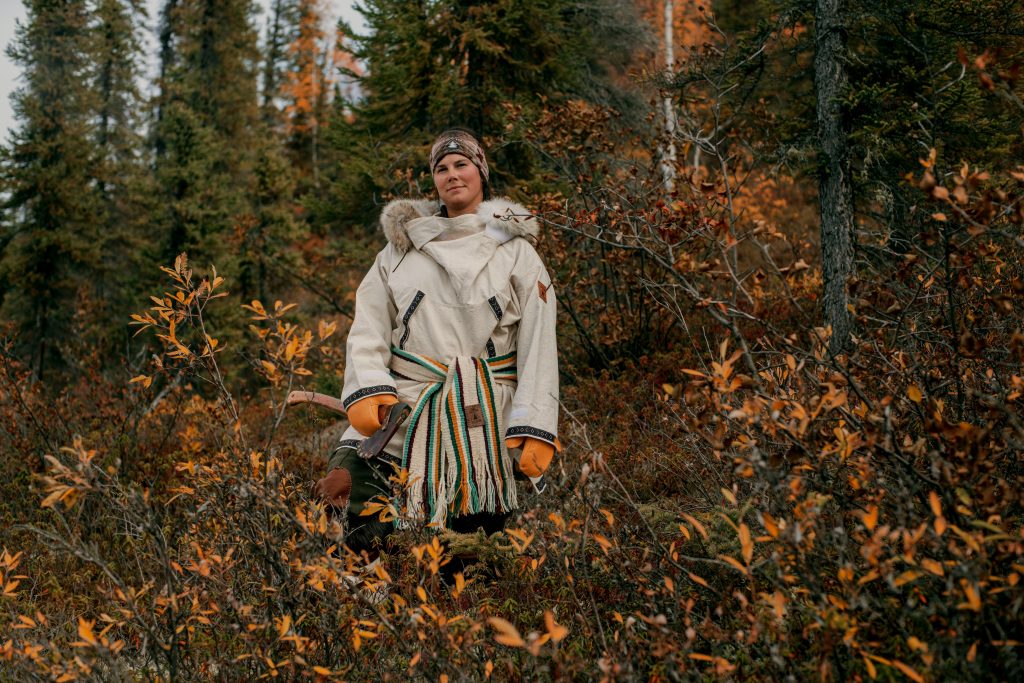 Down Jacket
This down jacket is the warmest parka that I could possibly find. It is like walking around with a sleeping bag attached to you! I knew I needed something incredibly warm because by the time winter would hit I could be getting low on my own fat reserves which means I would need all the help I could get.
The Rock and Ice Parka from Feathered Friends was such an incredible choice! It was my savior when the north winds would howl. Not a fleck of wind got through and I could be out in some pretty tough winds without flinching.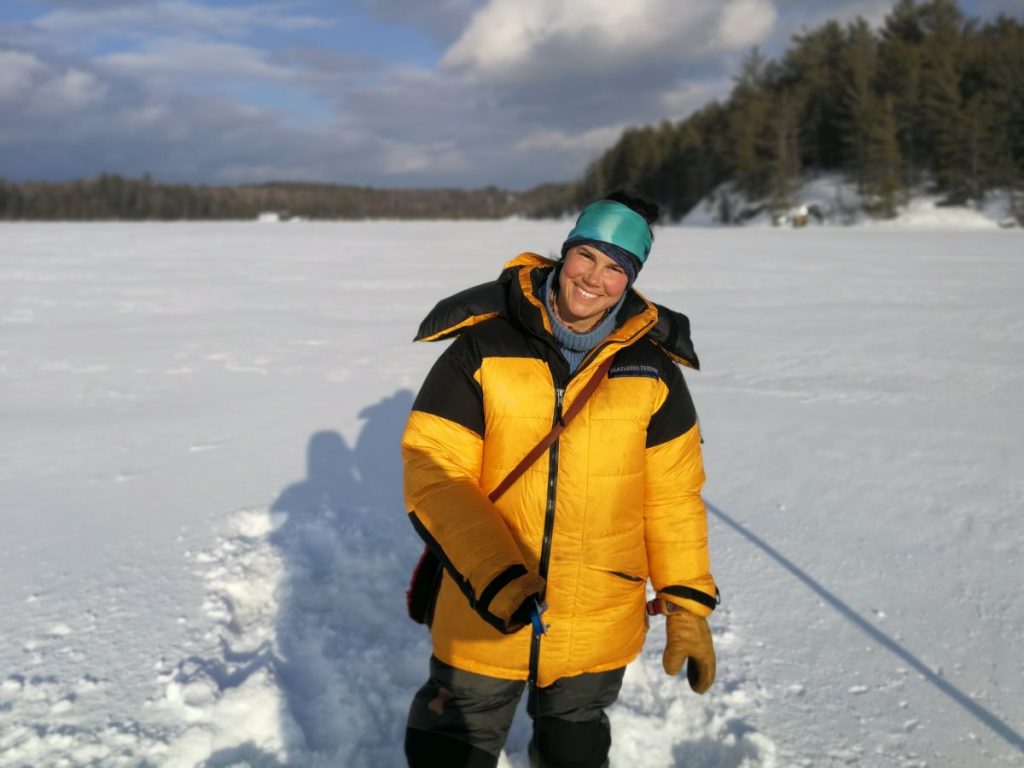 Down Pants
We were allowed to bring insulated pants and for that I knew that there could be times where I would be just standing at the fishing hole. This would mean I would need a sleeping bag for my legs too! So I went with the Feathered Friends Front Point Down Pants. Also a hit! I honestly didn't take them off once it got cold.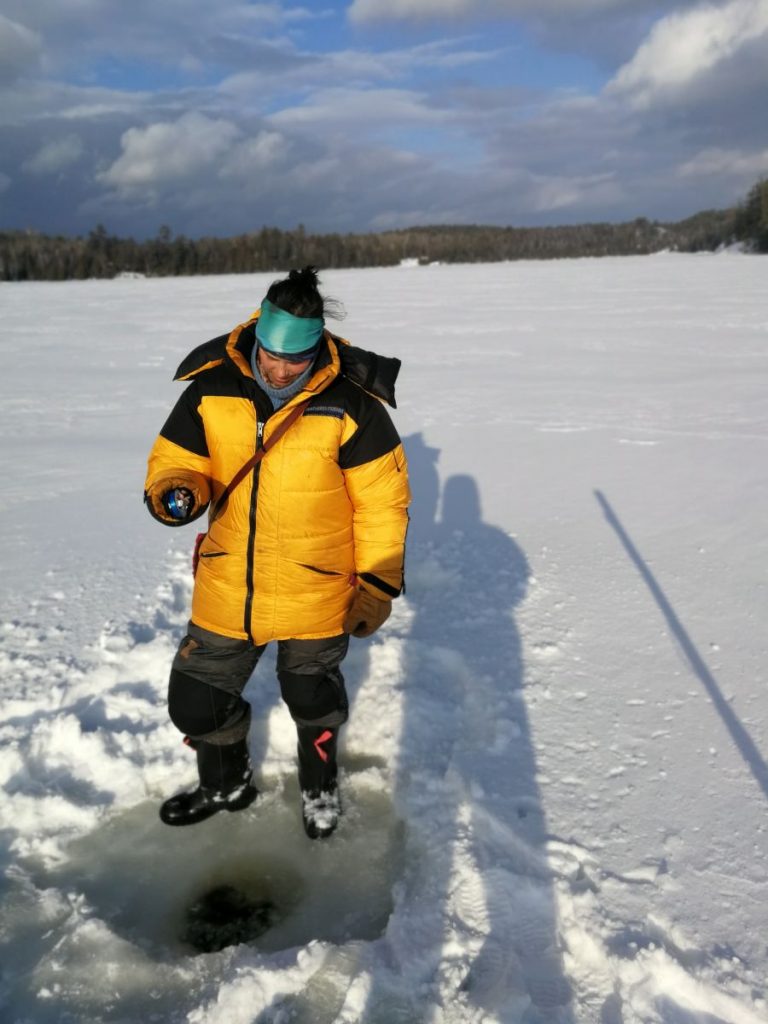 Footwear
Our business primarily focuses on making and using traditional gear specifically designed for use in a boreal forest biome. So it was an easy decision when I was able to bring cold weather clothing.

Winter Moccasins are the greatest choice for cold weather footwear. They are light weight, breathable and you can custom make them to fit as many socks as you want!

My moccasins I made were moose lowers, canvas uppers and I put a beaver trim on them. I sized them 2 sizes too big so I could fit 3 thick pairs of socks and two thick felt insoles inside of them.
Tingley's

We were able to bring two pairs of footwear: Arctic winter boots (Moccasins) and a pair of waterproof hunting boots.

Because I knew that it was going to get cold quickly I decided to go with my regular winter system. The moccasins are fantastic, but only when it's dry. When it's wet, we switch to wearing a very lightweight flexible natural rubber boot. The Tingley boot is just a shell in which you put the appropriately sized liners inside. So I Supersized my Tingleys so that I could fit the same size boot liner as I had in my moccasins. That way I would have a back-up pair of boots when it got cold.

I knew I could potentially suffer from hot feet at the beginning but that was a risk I was willing to take.